Agreement absolves top polluters of responsibility in climate disasters, they say.
Joe Torres, Manila – Philippines – December 17, 2015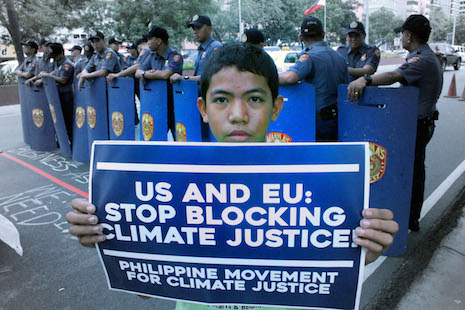 Climate activists and typhoon survivors in the Philippines have denounced the Paris climate agreement during a Dec. 15 protest in Manila.
"We cannot accept this deal, which will submit us to more death and destruction," said Gerry Arances, coordinator of the Philippine Movement for Climate Justice.
He said people were expecting "stronger and more binding measures" to address the issue of reparations for communities vulnerable to climate-related disasters.
The group of survivors from Super Typhoon Haiyan, which killed about 7,500 people in the central Philippines and displaced thousands more, also criticized the Philippine government's statement welcoming the climate deal on behalf of survivors.
Emmanuel de Guzman, a member of the government's Climate Change Commission, described the Paris deal as "a significant stride forward."
The official also praised the inclusion of a "loss and damages" clause in the deal and the inclusion of "human rights as its bedrock principle."
Residents of Haiyan-affected communities, however, said the government made a mistake in accepting the agreement.
"Those were not our demands," said Pascualito Ilagan of Eastern Visayas.
Ilagan said that while the deal had references to loss and damages, it also absolved top polluting countries of any responsibility or accountability in climate change-related disasters.
"While we have welcomed and accepted aid for victims of disasters, those who were truly behind the continuing destruction of the climate got away without having to pay us reparations," he said.
Ilagan also slammed the Philippine government for parading itself as a "champion" for Haiyan survivors while facilitating the "corporate-capture" of rehabilitation, which led to the displacement of some communities.
He said the enforcement of "no-build zones" displaced communities residing in coastal areas but allowed the business sector to build.
"Who are they to claim that they represent us when they have allowed companies to profit from our misery?" he said.
Arances said the Haiyan experience has been used as a stepping stone for many politicians, including those in Paris, "to forward their own agenda."
"The victims of disaster are at the losing end," he said. "In the climate talks, it is clear how the United States and the European Union, along with other top polluting industrialized countries have railroaded their agenda for them to continue business as usual."
While there have been many references to vulnerable peoples in the climate talks, Arances said the deal will be insufficient in averting future disasters because countries have committed to far less than the desired target of preventing global temperatures rising by more than 1.5 degrees Celsius.